We are one of the world's oldest aviation brands. The renowned tradition of aircraft manufacturing in Zlín began in 1934, when Jan Antonín Baťa founded Zlín Airline a.s. The safe and reliable development primarily of training airplanes and components has placed us among the world's leading aircraft manufacturers.
OUR VISION
Since its foundation in 2009, ZLIN AIRCRAFT company has been headed by Miloslav Tutter. He took an uneasy task on his shoulders – to bring back the ZLIN brand among the world's best manufacturers of this aircraft category. Being himself a pilot originally, he is currently the director general and sole shareholder of the company with annual sales of over EUR 120 mil and 140 employees. Aircraft leaving factory's gate are delivered regularly to customers Latin American countries, North American continent, African countries and of course to European and Asian countries. The ZLIN AIRCRFAT team thus successfully and boldly follows the vision, which Miloslav Tutter defined:
"By honest and conscientious approach to our work responsibilities, we will achieve the restoration of the famous name of exceptional and high quality ZLIN products".
Miloslav Tutter has intended to reach this vision in 2020. Yet, we can say it has been fullfilled already today. ZLIN AIRCRAFT, a significant company in Zlin region thus proudly celebrates 85 years since Jan Antoni Bata strated the production of aircraft in Otrokovice.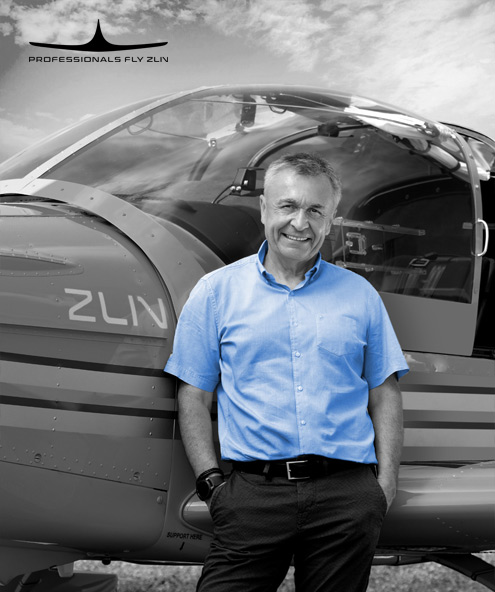 Certificates
ZLIN AIRCRAFT a.s. holds all necessary authorizations for its activities. The complex activity of Original ZLIN Service is regularly checked several times a year by authorized audits of independent certification organizations.

ZLIN AIRCRAFT'S HISTORY
During our 85-year existence we have been able to produce more than 7,200 aircraft for customers in more than 50 countries. In co-operation with our partners we also produce components and spare parts for L-410 and L-610 commuters, L-29, Lů59, L-159 and L-39NG jet trainers,L-23 and L-33 gliders and many others.
Throughout our history, our predecessors also manufactured complete landing gears for airplanes, which were used in many air forces in Central and East Europe, e.g. MIG 15, 19, 21, IL 10, IL 14, JAK 11, AN 28, L-60 Brigadier, Ae-45, L-200 Morava and others.