The ZLIN Z 242 L GURU training and fully aerobatic two-seat aircraft demonstrates a good balance between usefulness and superb flight capabilities. It is the result of challenging the ideas and experience of both pilots and engineers to deliver a pleasant and purposeful, yet safe flight experience.


AIRCRAFT STRUCTURE

A unique all-metal riveted airframe. The main beam of the central wing is furnished with a structural nitrogen overpressure control. The landing gear is also designed to operate on unpaved runways.
1090 kg – Max. take-off weight
1056 km – Max. range
+6/-3,5 – Load factor

The low-wing airplane concept and cabin structure allow unlimited and perfect visibility thanks to non-replicable construction solutions and is an advantage during flight. It offers excellent orientation when landing, taxiing, and in the event of an emergency escape from the cockpit.

The safe-life system is used to monitor and evaluate the lifetime of an airplane. This exceeds 20,000 flight hours.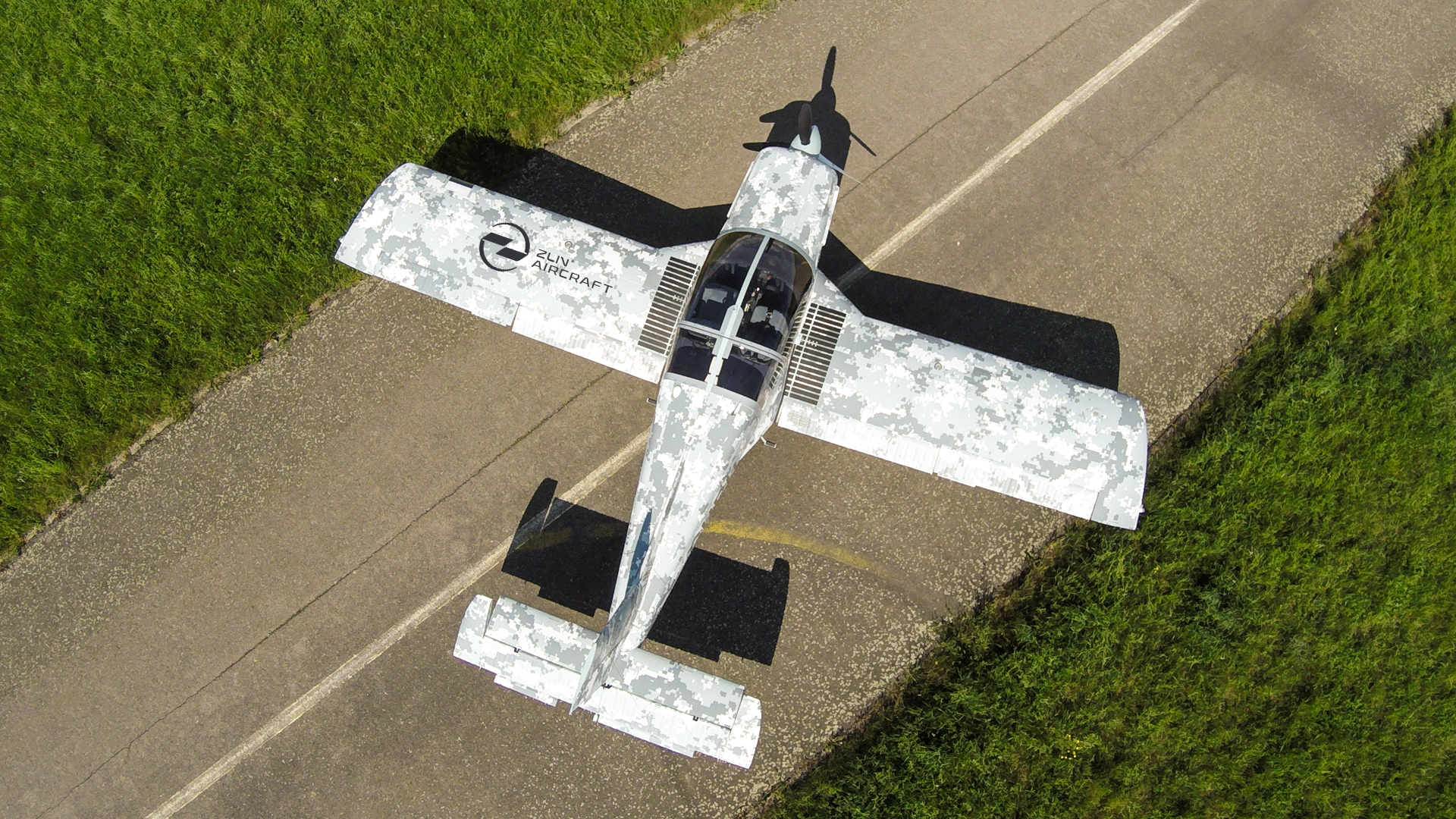 ENGINE
The American Textron Lycoming injection engine, coupled with a constant speed propeller together with excellent airplane flight characteristics and precise and responsive control, allows for all training flight maneuvers to be carried out.

The powerful engine allows mastering demanding requirements, primarily by novice pilots. Engine operating time at maximum revolutions is unlimited.

The MTV-9-B-C / C-188-18 three-blade composite propeller . The propeller is hydraulically adjustable with constant speed.
200 HP at 2400rpm

29 litres per hour in econ. mode


GARMIN AVIONICS

Garmin G500 multifunctional avionics adapted for the ZLIN Z 242 L GURU integrates all basic flight and engine instruments into digital screens.
The 3D terrain viewing feature is an invaluable tool. The system is set for maximum use and intuitive control. It allows pilots to gain a unique view of the situation and thus increase crew safety.

Complex data is collected in real-time on two large, adjustable, high-resolution screens.



AIRCRAFT INTERIOR
The spatially exclusive design of the all-glass canopy allows a perfect overview of what is happening around the ZLIN. The canopy opens reliably in all situations in a simple forward motion. It is equipped with a stopping mechanism and an emergency jettison system.

The layout of the control elements and instruments contributes to the comfort of the crew. The training aircraft can be controlled from both pilot seats independently.

Ergonomically and precisely shaped adjustable seats are a must component of a ZLIN aircraft today.

Key features
Two seats side by side

All aluminium structure

Both sides stick flight control

Easy controllability

High manoeuvrability

Simple and easy maintenance

Category N/U/A

Night and IFR training

Basic military and aerobatic training

Technical data - ZLIN Z 242 L GURU
Category

Aerobatics

Utility

Normal

▼

Metric

▼

Imperial

▼

Metric

▼

Imperial

▼

Metric

▼

Imperial

Empty weight

745 kg
1642 lbs
745 kg
1642 lbs
745 kg
1642 lbs

Max. take-off weight

970 kg
2140 lbs
1020 kg
2250 lbs
1090 kg
2400 lbs

Load factor (g)

+6 / -3,5
+6 / -3,5
+5 / -3
+5 / -3
+3,8 / -1,5
+3,8 / -1,5
Take-off distance
(ground roll)
210 m
689 ft
233 m
764 ft
266 m
873 ft
Take-off distance
(over 50 ft obstacle)
450 m
1476 ft
495 m
1624 ft
565 m
1854 ft
Max. rate of climb
(sea level)
5,5 m/s
1080 ft/min
5,0 m/s
980 ft/min
4,25 m/s
850 ft/min

Main tanks capacity

2 × 60 litres
2× 16 gals
2 × 60 litres
2× 16 gals
2 × 60 litres
2× 16 gals

Auxiliary tanks capacity

Range
(1900 RPM, 10000 ft, max. fuel capacity)
800 km
431 NM
800 km
431 NM
800 km
431 NM




Basic dimensions

▼

Metric

▼

Imperial

Wing span

9,34 m
30,64 ft

Length

6,94 m
22,77 ft

Height

2,95 m
9,68 ft
| | | |
| --- | --- | --- |
| Engine | | |
| Manufacturer | | TEXTRON Lycoming, USA |
| Type | | AEIO-360-A1B6 |
| Max. power (2700 RPM) | | 210 HP |
| Max. cruising power (2450 RPM) | | 150 HP |
| Economy cruising power (2350 RPM) | | 130 HP |
| | | |
| Propeller (constant speed) | | |
| Manufacturer | | MT Propeller, Germany |
| Type | | MTV-9-B-C/C-188-18a (three-blade) |
Category
| Aerobatics | Metric | Imperial |
| --- | --- | --- |
| Empty weight | 745 kg | 1642 lbs |
| Max. take-off weight | 970 kg | 2140 lbs |
| Load factor (g) | +6 / -3,5 | +6 / -3,5 |
| Take-off distance (ground roll) | 210 m | 689 ft |
| Take-off distance (over 50 ft obstacle) | 450 m | 1476 ft |
| Max. rate of climb (sea level) | 5,5 m/s | 1080 ft/min |
| Main tanks capacity | 2 × 60 litrů | 2× 16 gals |
| Range (1900 RPM, 10000 ft, max. fuel capacity) | 800 km | 431 NM |
| Utility | Metric | Imperial |
| --- | --- | --- |
| Empty weight | 745 kg | 1642 lbs |
| Max. take-off weight | 1020 kg | 2250 lbs |
| Load factor (g) | +5 / -3 | +5 / -3 |
| Take-off distance (ground roll) | 233 m | 764 ft |
| Take-off distance (over 50 ft obstacle) | 495 m | 1624 ft |
| Max. rate of climb (sea level) | 5,0 m/s | 980 ft/min |
| Main tanks capacity | 2 × 60 litrů | 2× 16 gals |
| Range (1900 RPM, 10000 ft, max. fuel capacity) | 800 km | 431 NM |
| Normal | Metric | Imperial |
| --- | --- | --- |
| Empty weight | 745 kg | 1642 lbs |
| Max. take-off weight | 1090 kg | 2400 lbs |
| Load factor (g) | +3,8 / -1,5 | +3,8 / -1,5 |
| Take-off distance (ground roll) | 266 m | 873 ft |
| Take-off distance (over 50 ft obstacle) | 565 m | 1854 ft |
| Max. rate of climb (sea level) | 4,25 m/s | 850 ft/min |
| Main tanks capacity | 2 × 60 litrů | 2× 16 gals |
| Range (1900 RPM, 10000 ft, max. fuel capacity) | 800 km | 431 NM |
Basic dimensions
| | | |
| --- | --- | --- |
| Wing span | 9,34 m | 30,64 ft |
| Length | 6,94 m | 22,77 ft |
| Height | 2,95 m | 9,68 ft |
Engine
| | |
| --- | --- |
| Manufacturer | TEXTRON Lycoming, USA |
| Type | AEIO-360-A1B6 |
| Max. power (2700 RPM) | 210 HP |
| Max. cruising power (2450 RPM) | 150 HP |
| Economy cruising power (2350 RPM) | 130 HP |
Propeller (constant speed)
| | |
| --- | --- |
| Manufacturer | MT Propeller, Germany |
| Type | MTV-9-B-C/C-188-18a (three-blade) |