ZLIN AIRCRAFT — User Area
Flying course for employees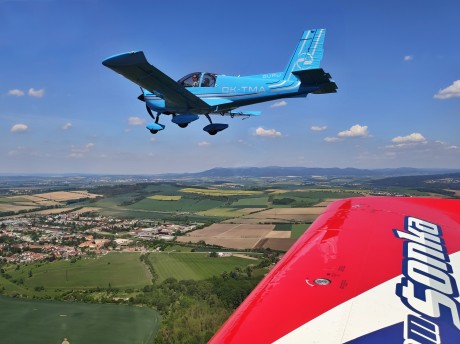 The company's management provides its employees with very attractive "insights" into flying with professional test pilots Martin Šonka and Ivo Kardoš in company aircrafts. More than one observer of this course can try hand-held acrobatics with a two-seater Z 242 L Guru or a few minutes of independent flight with a four-seater Z 143 Lsi over the surroundings of Otrokovice Airport.
WE ARE APPROACHING THE FINAL STAGE
Finishing works are currently underway on the modernized ZLIN Z 242 L ZEUS aircraft, finalizing precise assembly and sophisticated measuring activities under the strict supervision of well-founded developers and designers. The management of the company thus dignifiedly follows the vision of the founders of the world-famous brand ZLIN and thus proves with skill and Baťa's drive that modern aviation and acrobatic flying rightly have an important place in our society. We wish our aircraft to bring its creators, users and fans not only pleasure and self-realization, but to fly to many corners of the world, like its famous predecessors, bearing on its wings a quality brand - ZLIN.
ZEUS ON STAGE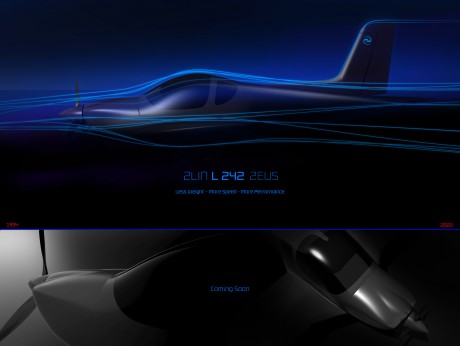 The modernized ZLIN Z 242 L ZEUS is being prepared for its premiere. Its silhouette suggests a lot, its interior surpasses all expectations. ZLIN ZEUS exceeds everything that is perfect at ZLIN today. What has been a dream for many years will be a sure thing for "tomorrow". What is hard to be described will obviously easy to spot. When? Maybe the month of May - also company's director, Mr. Miloslav Tutter's favourite month, will give us a clue. The first newly manufactured aircrafts ZLIN ZEUS will for sure fly to a Bulgarian customer.
Creating New Account
Welcome to the registration page!
You, our customers and friends ZLIN aircraft, we register on our website that allows you to access to service bulletins, service letters, catalogs, spare parts and on-line monitoring of Safe-Life (AMU).
Complete instructions for access to online services, see the Help section.
Please fill out the form so that we can accept your registration and provide you with all the benefits that are associated with the registration. After successful registration on our website you will find a comprehensive overview gradually above mentioned services and other important information, including updates. In case any of your questions or comments we are fully available.
Your
ZLIN AIRCRAFT Team