ZLIN AIRCRAFT — User Area
ZEUS controls the skies
ZEUS breaks all records in purchase orders for year 2021 – the aircraft of modern conception, lighter, faster, effortless, top aerodynamics, ideal aerobatic qualities, with low-cost operations. Simply – ZLIN rocks, ZEUS controls the skies.
ZLIN AIRCRAFT a. s. Calendars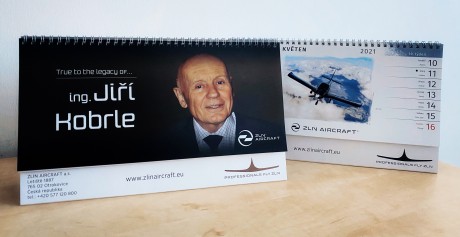 Plan successful year 2021 only with the extraordinary ZLIN aircrafts in a new 2021 calendar. The calendar is dedicated to the legacy of Ing. Jiří Kobrle who stays inherent and essential part of history and tradition of ZLIN AICRAFT a. s. Send your order to info@zlinaircraft.eu. Price per piece is 3.99,- EUR.
ZLIN 242 L ZEUS
Announced arrival of our new modernized ZLIN 242 L ZEUS is almost here! First presentation of this exceptional aircraft of ZLIN family will take place at international exhibition IDEX 2021 in Abu Dhabi at the end of February, where ZEUS will be presented with improved aerodynamics and excellent efficiency as the best of the best.
Creating New Account
Welcome to the registration page!
You, our customers and friends ZLIN aircraft, we register on our website that allows you to access to service bulletins, service letters, catalogs, spare parts and on-line monitoring of Safe-Life (AMU).
Complete instructions for access to online services, see the Help section.
Please fill out the form so that we can accept your registration and provide you with all the benefits that are associated with the registration. After successful registration on our website you will find a comprehensive overview gradually above mentioned services and other important information, including updates. In case any of your questions or comments we are fully available.
Your
ZLIN AIRCRAFT Team